Join us for an exciting night of exhibition matches from the area's best up and coming fighters.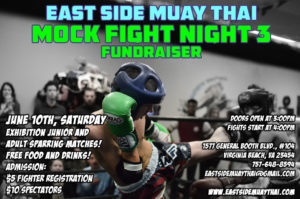 FIGHTERS: Full gear is required!
Adults: head gear, shin pads, cup and 16 oz gloves
Juniors (12 and under): head gear, shin pads, chest protector, cup and 12 oz gloves
To register, please contact us via email, phone or just stop by.
Admission:
$5 Fighter Registration
$10 Spectators
Doors open at 3:00PM
Fights start at 4:00pm